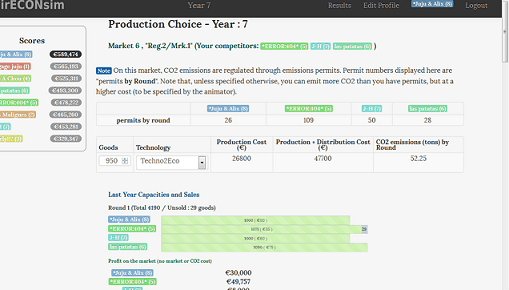 The game interface.
Environmental Economics through the Game (CO2 permits).
A game with progressive difficulty levels and "trial and error" cycles.
The carbon game is an online simulation game for teaching environmental economics and industrial organization.
Players are responsible for managing competing companies specializing in consumer goods whose production generates very high CO2 emissions. They compete on several markets with different environmental policies. The game environment changes each year and requires players to adapt their strategy and to anticipate changes in the behavior of their competitors (changes in environmental policies, new technologies, cost evolutions, R&D, crises ...). At the end of the game, players are subject to a system of tradable emission permits.
Some of our customers: Toulouse School of Economics, HEC Paris Executive MBA, Paris Dauphine University, AgroParisTech, University of Lille, Sciences Po, Toulouse Business School, ENAC, IMT Atlantique, ENSAI, Mines-Albi, MOOC "Manage Your Prices", University Rennes 1, Ecole des Ponts ParisTech, Purpan, Master EDDEE, Ecole Polytechnique...
Understanding environmental economics through the game.
With the carbon game, players understand through practice, the major issues of CO2 emissions economics.
Environmental policies in the game include:

Unit emission taxes.
Unit emission reduction subsidies.
(non tradable) Quotas.
Emission permits (tradable or not, binding or not, with or without banking, allocated in different ways).
...

Permit Allocation modes in the game include:

As a function of historic emissions.
As a function of historic sales.
Fixed and equal allocation.
Through auctions.
With or without secondary markets.
A mix of all these.
Theoretic debriefing phases regularly occur during the game, to help players apply economic analysis tools to decision making.
A flexible training program tailored to your needs.
We regularly offer (distance or traditional) trainings on environmental economics or industrial organization, for all levels. The usual duration of training is two days for a standard scenario, in French or English.
Upon request, we also organize tailored interventions, over three, four or five days, using customized scenarios and/or our other games.
With our other games, we can also offer trainings on:
Revenue Management
"General" Industrial Organization or a more specialized topic (auctions, mergers, collusion,...)
...